Annette, L.A, and Aaron, NJ, started dating during their freshman/senior years (respectively) at Cornell University. After Aaron graduated and moved to Pittsburgh to pursue a PhD at Carnegie Mellon, they continued dating long distance.
Annette and Aaron were planning to have their wedding at a large hall in NJ this summer, but had to cancel those plans because of COVID19. While they waited to see if Aaron's parents, who made Aliyah a year ago, could fly in from Israel to reschedule, the couple also had to decide what to do about the rest of their ruined wedding plans; they debated just having a small wedding in Pittsburgh, where Annette was to join Aaron at Carnegie Mellon for a masters.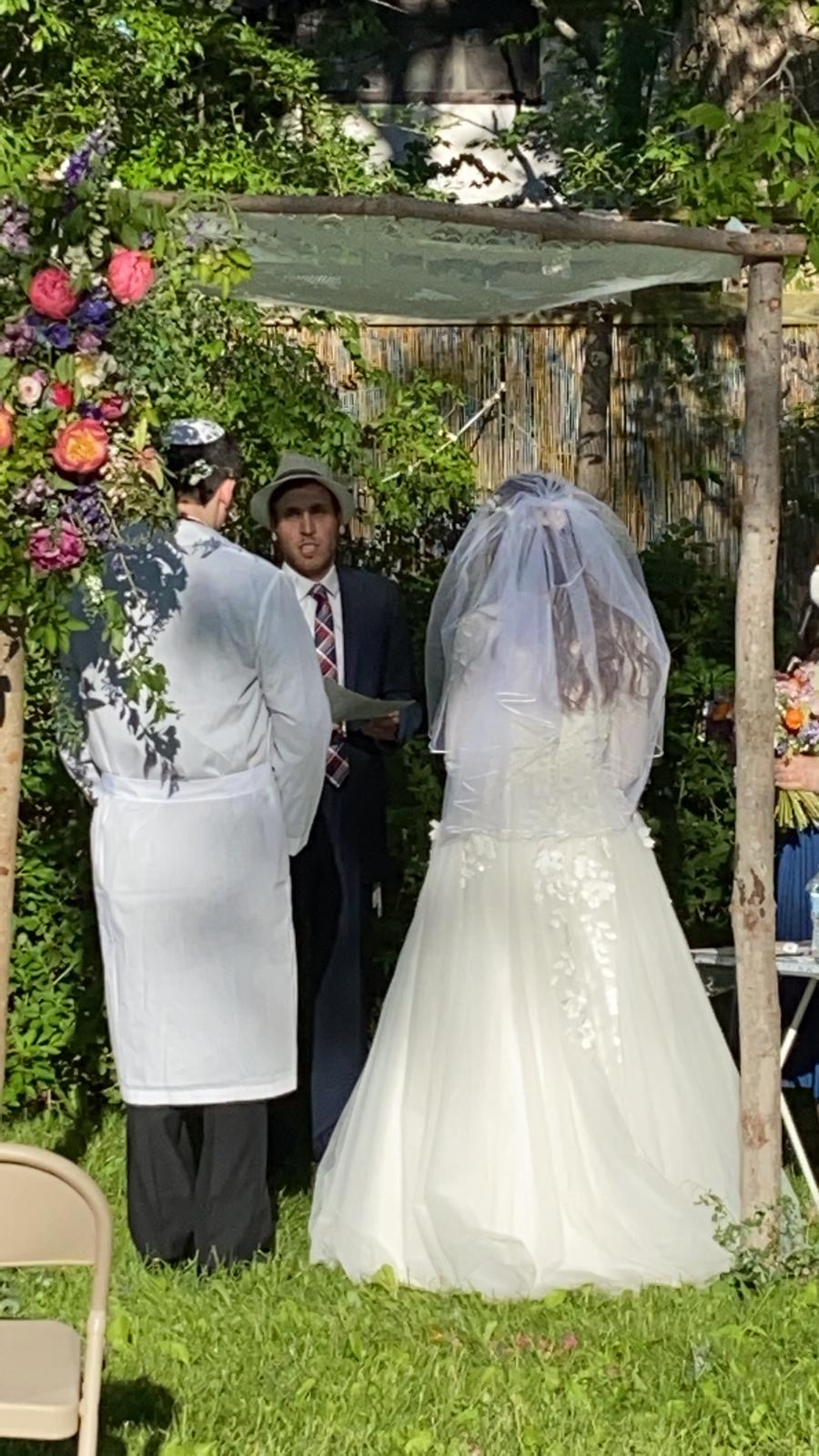 That's when the Kasdans offered to host the wedding, in Ithaca, NY. Sarah Kasdan had started learning with Annette during Kasdan's first semester on campus, while Annette was taking a semester off to spend time with her sick father, who unfortunately passed away at the end of that semester. Although Annette was away from campus, she was eager to start forming a relationship with the new OU-JLIC couple. Both Annette and Aaron had been involved with the previous OU-JLIC couple too.
"The Kasdans feel that hosting engagement parties just kind of comes with the job of being OU-JLIC campus directors, and is something they like doing for all their students, but making a wedding was a whole new level."
Anette has since held charutot with both Sarah and Rabbi Daniel, and when Aaron has visited campus for a Shabbat, the Kasdans have hosted him for meals. It's no surprise when the couple got engaged the Kasdans hosted the engagement party. Rabbi Daniel and Sarah had also gotten the new couple a challah cover from Israel over winter break. The Kasdans feel that hosting engagement parties just kind of comes with the job of being OU-JLIC campus directors, and is something they like doing for all their students, but making a wedding was a whole new level.
Beside the parks being closed in Pittsburgh and the couple not having a backyard, Sarah, pointed out the benefits of having the wedding in Ithaca. For one, the Kasdan's had a large backyard, they used to host many OU-JLIC events. Having it in a private yard would allow the couple to set up a meal, whereas in a park, they would need to get special permits. Additionally, the Jewish collab/dorm at Cornell, the Center for Jewish Living, would be the ideal place to sleep family and friends coming in for the wedding.
Just before Shavuot, Annette and Aaron decided to have the wedding the first week of June (about a week after Shavuot!). This gave the Kasdan's about two weeks to make their first wedding (other than their own, which they didn't cook for :p ).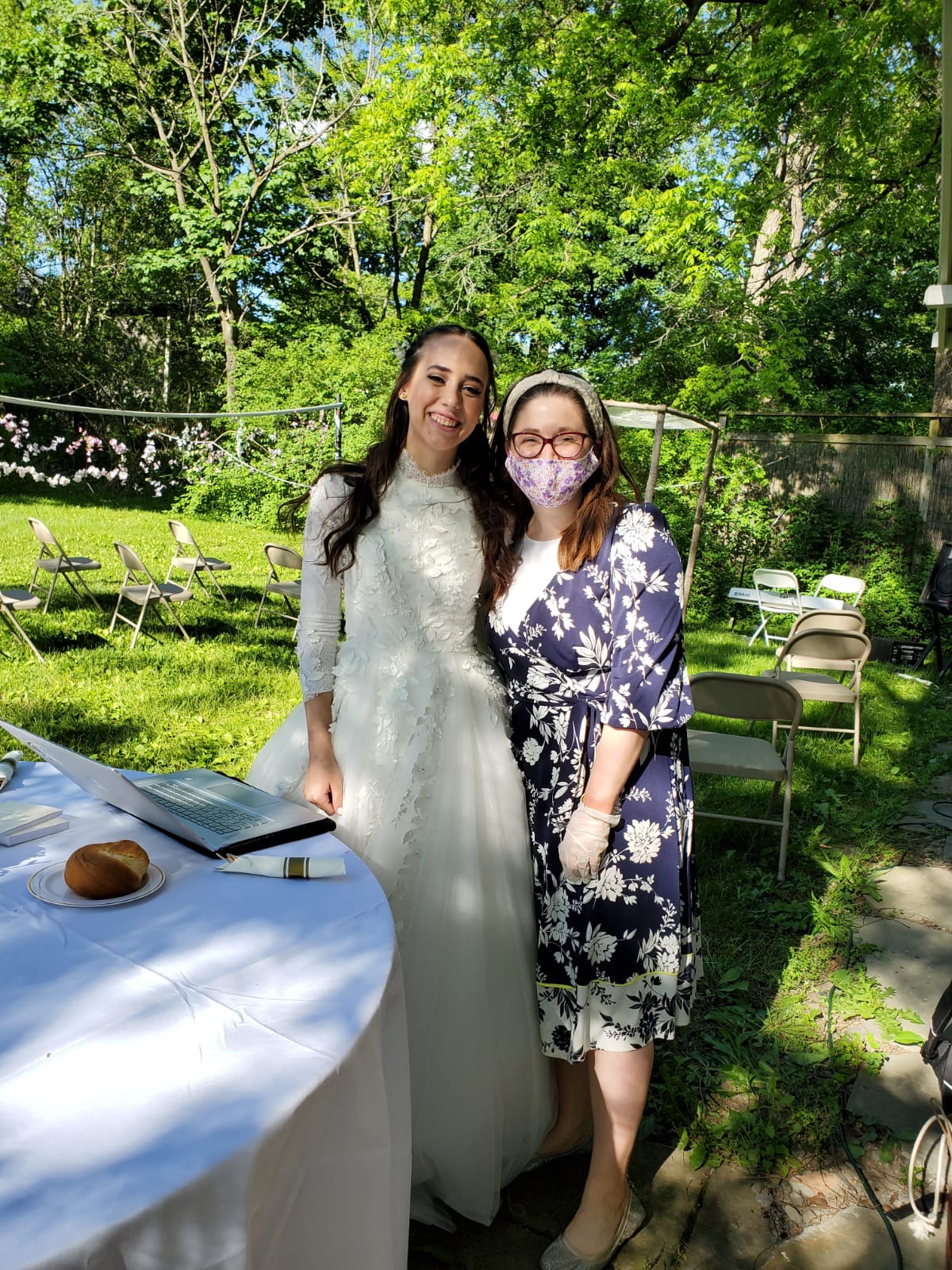 The Kasdan's knew that as there is no kosher caterer or restaurant in Ithaca, having the wedding in their backyard would be very hands on. While some food was able to be brought in by guests from out of town, the Kasdans did most of the cooking, personally set everything up, organized a florist to come build the chuppah, and arranged for chairs, table and linen rentals. In order to maintain safety in the midst of the wedding, the Kasdan's made sure everything was also individually plated. While Sarah has prepared kallot (brides) for their wedding before, and Rabbi Daniel has officiated before, this wedding was "A ton of work, but a huge chessed for a couple we are so close with and who have given so much to the community. So it was very special," Sarah said.
Luckily, Aaron's parents and brother were able to fly in for the wedding, and Annette's mother one of her brothers and an uncle joined too. Unfortunately, Annettes' other brother was unable to make the wedding. With only three to four close friends each, plus a handful of students still on campus (the wedding was limited to the max guests allowed by state guidelines), instead of the dozens of friends they expected at their wedding, according to Sarah, the hardest part of making the wedding was the emotional obstacle of making it fun and exciting instead of feeling like a disappointment. The Kasdans were able to lean on their OU-JLIC peers across North America and Israel to help brainstorm ways to make the wedding safe and fun. In the end, it turned out to be a really nice event. Aaron's Rabbi from Pittsburg came with his keyboard and played live music, instead of holding hands while dancing, everyone held the end of a celebration arch. For the chupa, over 150 people Zoomed in, and the zoom remained on throughout the dinner, so the couple could talk with relatives. In addition the Cornell students put together a video of well wishes and schtick to show the couple.
Because of all their experience with OU-JLIC and other large OU-JLIC events they had made, The Kasdans felt well equipped making the wedding in their backyard.