Campus directors, community leaders and senior educators across OU-JLIC stand resolute in their commitment during these challenging times to create positive and proactive opportunities
that exemplify a 
kiddush hashem.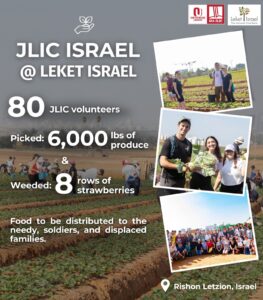 OU-JLIC Israel continues its dedication to welcoming evacuated refugees from the South. Volunteers partnered with Leket, Israel's National Food Bank and leading food rescue organization, by picking 6000 pounds of produce to distribute among the needy, soldiers, and displaced families. Through the new "Warm Welcome" initiative, volunteers assisted in arranging housing for families, conducting basic shopping on their behalf, and coordinate deliveries via designated drivers. Students at the Technion participated in a challah bake, distributing challot to both displaced families and families of miluimnikim on reserve duty.
To Sponsor Displaced Families and Volunteer Opportunities, Click Here
OU-JLIC in North America is spearheading a movement to express gratitude towards those advocating for the Jewish community and standing against terrorism. Channah Cohen, the Senior Educator for Yavneh Young Professionals, introduced the "Solidarity Squad" initiative. The idea is for families to take turns delivering thank-you cards and treats to local first responders, rescue squads, police officers and firefighters on a weekly basis. Channah inaugurated the program by engaging 75 young members of her Silver Springs, MD community, who crafted and delivered posters that read 'Thank You Heros" along with boxes of cookies. "It was such a simple yet impactful gesture", says Channah. "I was surprised how grateful and touched the officers and first responders were. At the same time, it boosted morale for the kids and adults."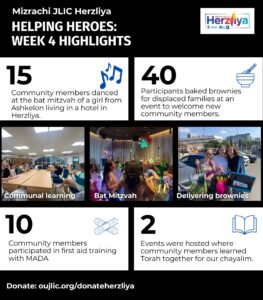 On OU-JLIC campuses, college Directors are actively combating antisemitism to safeguard Jewish students facing increased hostility. Drs. Rod and Daniella Najibi, OU-JLIC Directors at Santa Monica College and Western University, held discussions with the President, the provost and chief academic officer, and their staff of WesternU to address and counteract antisemitism on campus.
To Help Protect JLIC's Jewish Students on Campus, Click Here