Please find the update of OU-JLIC activities from this past week. I hope that their efforts are able to give you continued Nachas. Thank you to each of you that shared feedback and encouragement to past updates. We have sent your positive feeback out as "reverse Nachas" to the educators at the beginning of each week and the appreciation has been a source of Chizuk for them.
Impact In Numbers
96 advisory meetings took place with OU-JLIC educators and Hillel, Student Groups, or other groups/organizations
365 virtual coffee dates ( including chevrutah learning and check ins)
969 texting and whatsapp check-ins with students
97 students were delivered food by OU-JLIC educators
105 Chaburot and Shiurim were given last week by OU-JLIC educators
850 students and their family members took part in OU-JLIC chaburot and chevrutot this week
27 non-learning events and programs took place over the last week
101 divrei Torah were sent by OU-JLIC educators to 5,247 people
317 Halachic questions were answered by OU-JLIC educators and 103 of these questions were related to COVID-19
23 chattanim/kallot were taught by OU-JLIC this past week
Before going over the programming highlights from this past week, here are some of the personal and halachic issues the educators are helping students with:
Personal Connections
Rabbi Isaac and Tal Attia, currently educators at Binghamton University and former educators at Brandeis, offered guidance and support to two of their Brandeis Alumni whose wedding took place on Sunday, March 22nd. Several weeks before the wedding, the engaged couple called the Attias asking for advice about whether they were halakhically allowed to push of the wedding. In the end, they decided to do a small backyard wedding. On the morning of the wedding, the chatan called the Attias for some halakhic guidance and some chizuk to help him get into the right mindset. The following day, the newlywed couple called the Attias and thanked them for supporting them on their special day.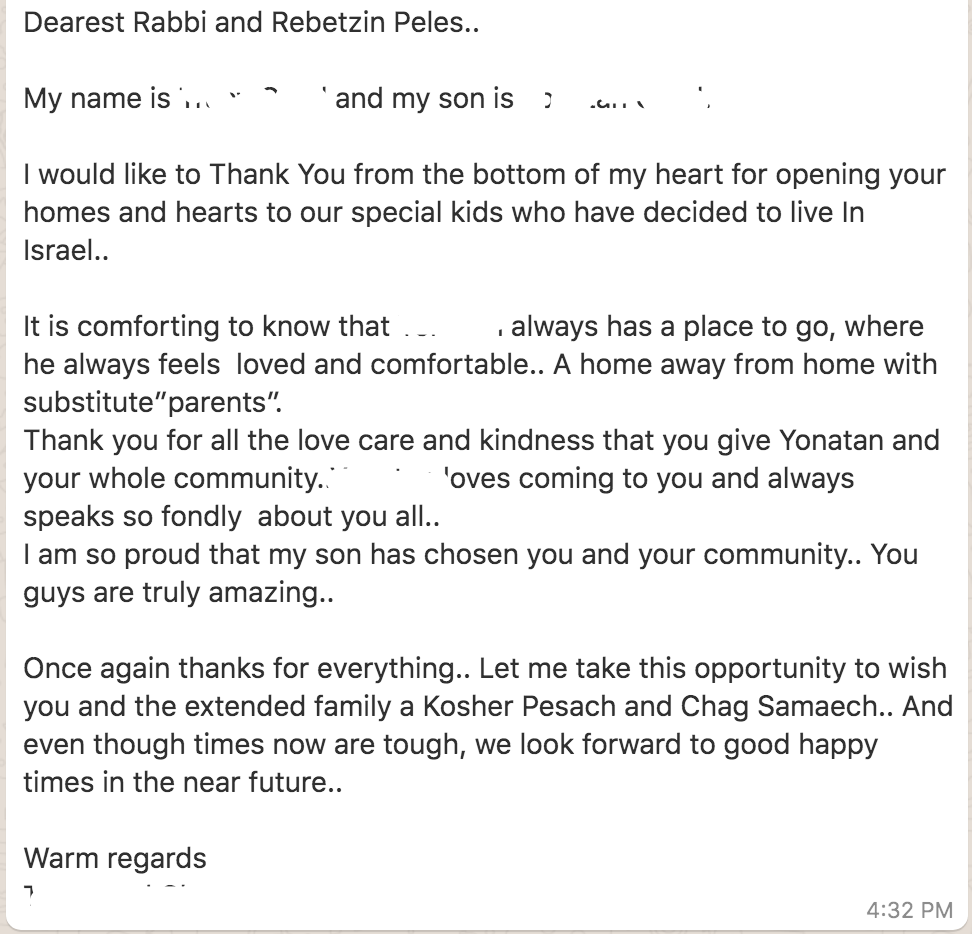 Many international students at Bar-Ilan University will be alone for Leil haSeder this year. Rabbi Yehuda and Chagit Peles, OU-JLIC Mizrachi educators at Bar-Ilan University, prepared 70 seder packages for these students. They also sent letters to the students' parents to tell them, that even though these parents are apart from their children, Rav Yehuda and Chagit are there for their children. A related Nachas note will be in a follow-up email.
A kallah was not going to go to the mikveh because her chatan was immunocompromised. Corinne Shmuel (OU-JLIC NYU) helped the kallah figure out a way that she would feel comfortable going to the mikvah.
Orit Faguet (OU-JLIC Santa Monica College) is helping a student in quarantine through a very difficult personal time: the student's parents are divorced and her father, who abused her growing up, has begun a custody battle for her younger siblings. Orit spent a long time giving her chizuk and speaking with her how to feel connection to Hashem and Torah during this very difficult time.
A Sampling of Halachic questions and concerns from Last week-
Numerous baalei teshuvah (including many NCSY alumni) from an array of campuses including CSUN, where Rabbi Bryan and Sondra Bornstein are educators, have been in touch with our educators about navigating Pesach at home with their non-religious families. Rabbi Schrader has given the educators halachic guidance on this issue. I will be sending a follow-up email with a related Nachas note.
"I would like to understand a few things related to challah for Shabbat. I want to try to avoid going to the supermarket as much as possible. We have one frozen challah in the fridge and the rest of the bread is sliced which I know is not ideal. Is there any leniency here with regards to using this for challah? If not I will go out and buy."
A student needs to empty out her dorm by a certain date in order to get a refund. Her parents want her to give up whatever she had left there and not make another trip. She was concerned she might have sefarim and they'd probably be thrown out.
"Does one need to bench gomel after recovering from the coronavirus?"
"How do I tovel keilim? Can I tovel keilim?"
"Can one hear a siyum over Zoom on the fast of the firstborn to break the fast or do each of us firstborns have to make a siyum?"
Programming Highlights
Within the OU Family
Rabbi Aryeh and Sharona Kaplan (OU-JLIC UCLA and Western Region OU-JLIC Directors) were interviewed live over Zoom and Facebook by OU West Coast. They discussed how they are adapting OU-JLIC programming because of COVID-19 and personal best practices over this time.
Rabbi Jon and Orly Singer (OU-JLIC University of Chicago) have paired up their students with local Yachad Chicago members to have weekly chats. University of Chicago has organized several events with Yachad in the past so the students have met many of their participants and continuing the connections they have already made.
Killing COVID with Kindness Update: Rabbi Joe Wolfson (NYU) and Mrs. Margot Botwinick's (IDC Herzliya) initiative for helping out the most vulnerable segments of our community during this time is up to over 175 volunteers. Volunteers call the elderly, Yachad members and others that are immuno-compromised or otherwise isolated (the goal is to reach 5000 seniors). Through Rabbi Joe, volunteers are taking part in a campaign to write letters to 1400 seniors living in Met Council for Jewish Poverty housing complexes. Volunteers are also helping package and deliver meals and/or go grocery shopping for those in need of food, while maintaining safe, government social distancing guidelines. Rabbi Joe believes it is about more than just all the good volunteers are doing, "It's about agency, it's about giving people a sense that they can do something in this moment. It really helps to have something productive to do."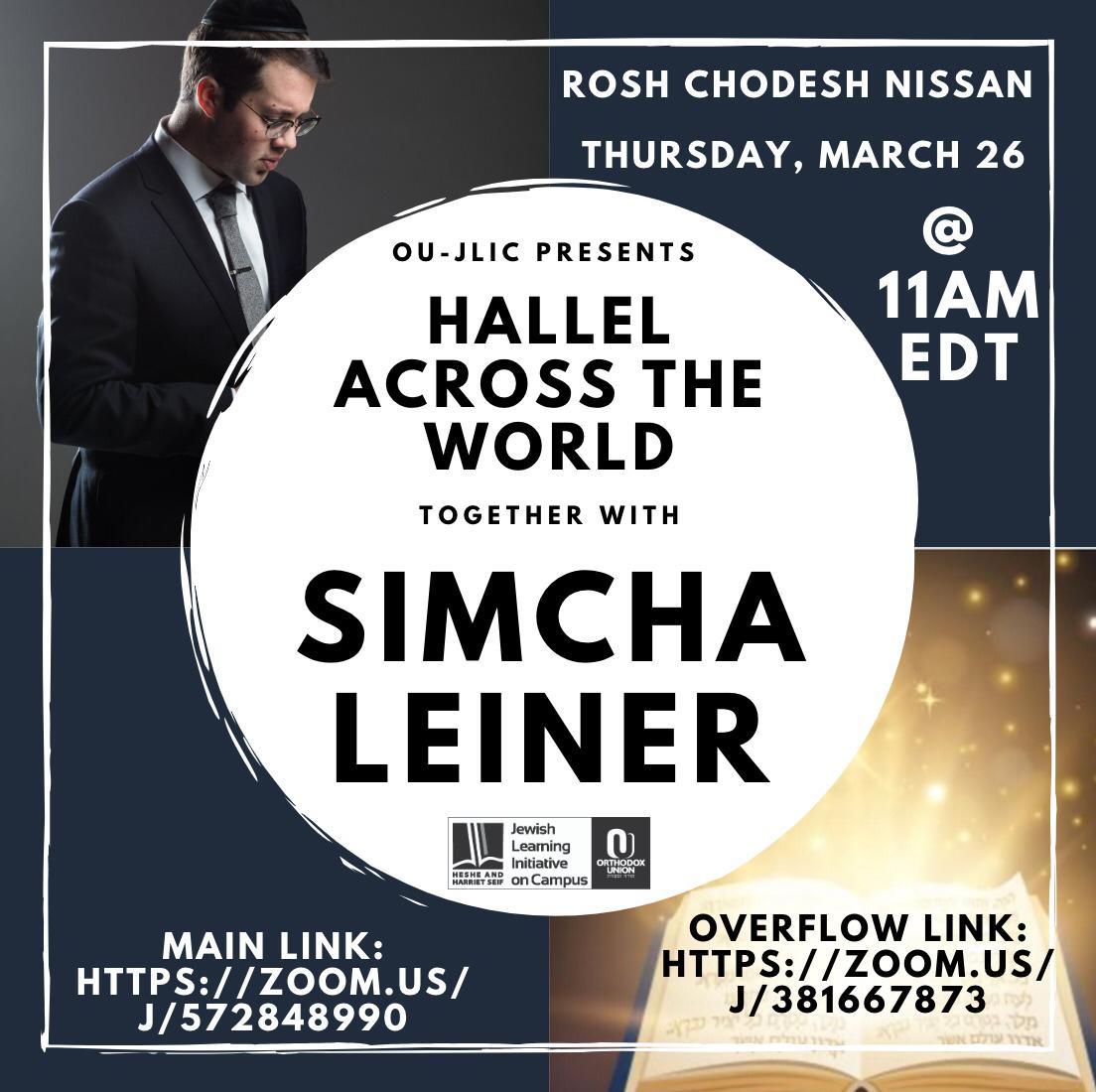 Hallel Around the World – 1800 people took part in the Hallel Around the World on Rosh Chodesh Nissan with Simcha Leiner. This program was organized by Rabbi Benny and Sarah Berlin (OU-JLIC Queens College). Several other campuses, including Brandeis University's Rabbi Arye and Avia Greenberg, organized campus Rosh Chodesh davening over Zoom for their specific campuses.
Sarah Kasdan (OU-JLIC Cornell) organized a Woman's Yoga night for students.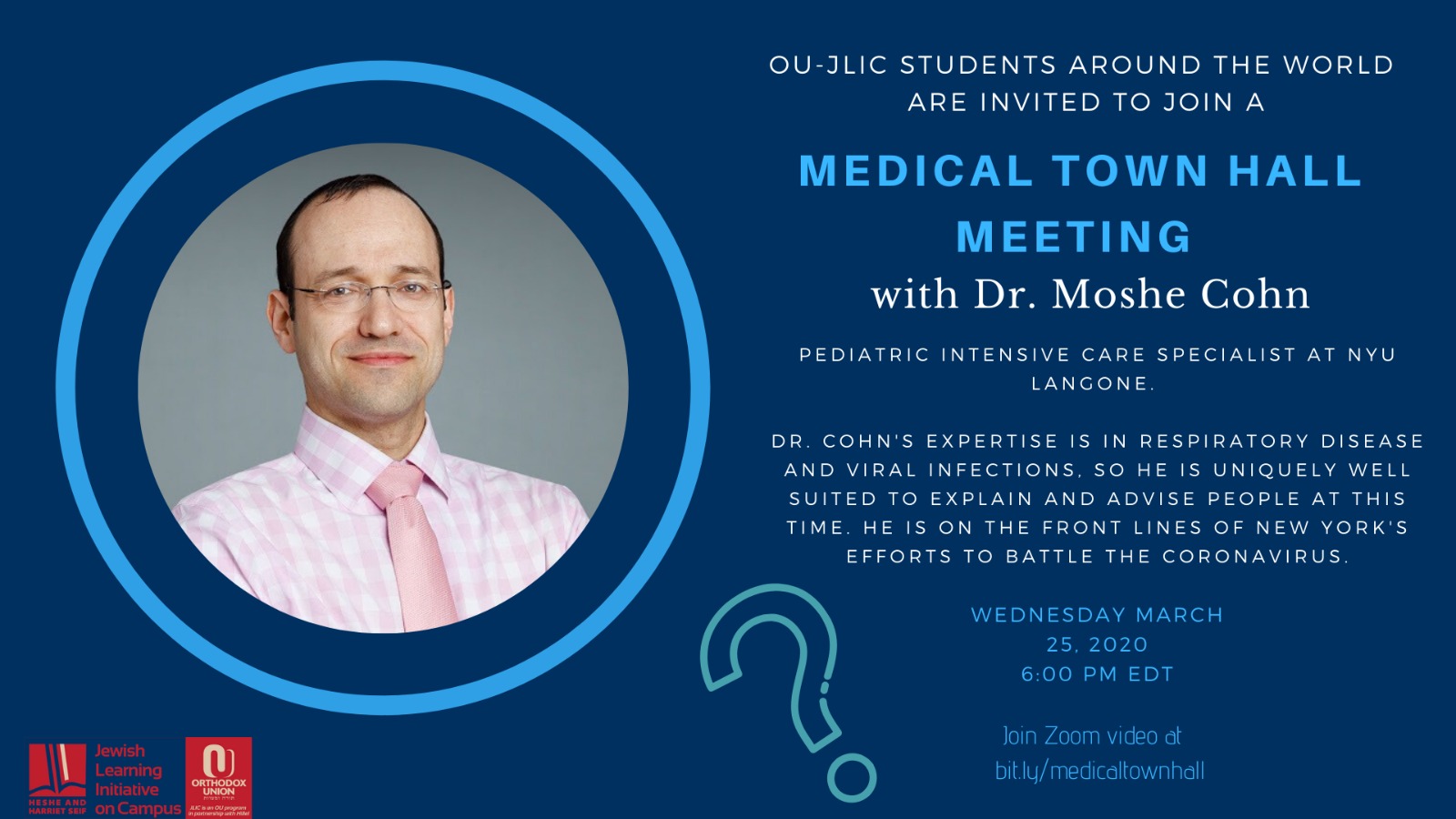 Medical Town Hall Meeting – OU-JLIC organized a Medical Town Hall Meeting for students with Dr. Moshe Cohn, a Pediatric Intensive Care specialist at NYU Langone.
Kabbalat Shabbat Over Zoom – Several campuses including Rutgers University and Queens College have organized a Pre-Shabbat Kabbalat Shabbat over Zoom. Rabbi Tzvi Wohlgelernter (OU-JLIC Rutgers) leads a chaburah on Hilchot Shabbat before Kabbalat Shabbat starts.
Yavneh on off Campus: Yavneh on Campus, OU-JLIC's student leadership arm, has always focused on how to connect isolated students on campuses with insufficient Orthodox infrastructure, through virtual Torah learning and other activities. The following are two examples of ongoing programming with much more in the works:
Virtual Davening- This daily prayer group helps strengthen the students' davening. The 15-20 daily participants sit down for breakfast "together" after davening and enjoy a short dvar Torah – what better way to start their days!
Chevrutafest matched 40 students to learn and prepare for a weekly shiur.
All the best, and I hope you and your family stay safe and healthy,
Ilan