With guest blogger, Yakira Shepherd:
I am a 19 year old South African from Johannesburg. When I decided to come to IDC Herzliya I knew that I would be inundated with hundreds of different cultures as it is an international school. At the same time I was anxious that despite being in Israel, maintaining my connection to Torah and the mitzvot would be a struggle in both a practical and emotional sense. However upon learning about and understanding the role of OU-JLIC I became incredibly grateful for the popular American culture of the university, enabling me as a South African, to be exposed to such a wonderful organisation. An organisation that has allowed me not only to comfortably uphold my Torah values and lifestyle, but has also encouraged me to grow and improve.
I arrived on campus searching for guys with a kippah on their head and girls who were wearing skirts in the hopes of creating a connection with anyone religious. I knew I needed to find people to spend Shabbat with, and people who I could connect to on a deeper level through a shared knowledge and understanding of religion. I of course signed up to receive information from OU-JLIC about events, but at the same time I had no idea what the organisation was. Finding a group of people who shared my perspective on life, being Jewish and being religious was my goal. At first I was truly afraid that I would not be able to find this in the sea of hundreds of first year International students. As the first Shabbat of the year was approaching, my anxiety to find people to be with on Shabbat increased, but my mind was put at ease when I was sent a message, by a OU-JLIC organiser, asking if I would like to take part in a Friday night meal in another student's home. I responded immediately yes. I was significantly more relaxed when it was requested that all the food each person brought to the meal was either a store bought kosher product, or cooked in a kosher kitchen. I knew I had found my people.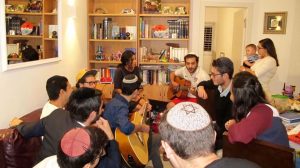 At that first Friday night meal I met some of my now closest friends. We all went after dinner to the first oneg in yet another student's home. I walked in, anxious and excited. As I walked into the room, the sheer volume of people was overwhelming. I felt like I knew no one. But within five minutes, I already felt at home. The warmth and joy in the room was tangible. All my worries went away, I knew that I had a place and that was an immense comfort. From that moment I have hardly missed any of the OU- JLIC events. From challa bakes and shiurim to Shabbat meals in the park, every event has established a family. We are a unit, who cares for one another, and ensures that no one is ever alone. It is such a blessing to be part of the family that Rav Josh and Margot Botwinick have created. With two events and an incredible Shabbat experience each week, there are so many opportunities to grow. Student run events are always inspiring. Having students host: both shiurim and Shabbat meals, makes us feel even closer as a family. Every event is guaranteed to have some core members of our community/family and always at least one new person. This means that while our community is growing constantly, there is a core warmth that keeps us grounded.
Shabbat with OU-JLIC is one of the most incredible experiences. Every Friday night begins with a Carlebach Kabalat Shabbat at the Botwinicks. We sometimes have up to 70 people. The spirit, joy and unity is tangible in every melody. We then divide up into Shabbat meals at different people's homes and everyone contributes. Often we then reconnect as a group for an oneg, we talk and relax until all hours of the night. Shabbat day is another unique and beautiful experience. Shacharit in the morning is joint with a nearby old age home, and after that everyone heads to a nearby park for "Kiddish in the park." Everyone provides food, potluck style, so there is always plenty to eat, and it is always delicious. After saying kiddush we wash our hands and begin with lunch. The relaxed atmosphere is a perfect end of one week and start of the next. For the people who are capable of eating even more, we go to the Botwinicks for seuda shlishit. There we sing, eat and relax until we are able to bring out the magical Shabbat with a musical havdalah. It truly feels like the whole Shabbat is spent with family and it leaves you feeling rested and energised for the week
Being on campus at IDC in general is a wonderful experience.The lecturers and administration really care about all the students and our success. The atmosphere is warm and calm. The international culture is unbelievable and really enhances the whole university/college experience. You meet so many people in your courses and on campus,  OU-JLIC is yet another way to connect to people from around the globe in a different space.
While there are many practical struggles living in Israel alone, there is so much beauty. I am loving all my experiences because I know I have the best of both worlds. From a more secular perspective, I am getting an incredible, internationally recognised education, making connections with people in my industry, learning about myself through my degree and growing as a person. And from the perspective of my religious journey, I am connecting to Jews from all over the world, learning Torah, sharing mitzvot and growing spiritually in the Holy Land. IDC has been incredible for me so far, and this journey has been enhanced with OU-JLIC.
Yakira is a first year student at the Raphael Recanati International School  of IDC Herzliya, from Johannesburg, South Africa.