This past Shabbat, we had the privilege of hosting Hasidic pop star Lipa Schmeltzer at the Hopkins Hillel. It all started when Aaron Tessler, a Junior at JHU, extended the invitation to Lipa to experience a Shabbat with our wonderful Jewish community at Hopkins. Lipa, currently a college student himself, decided to accept the offer to his first ever Shabbat visit to a secular college campus.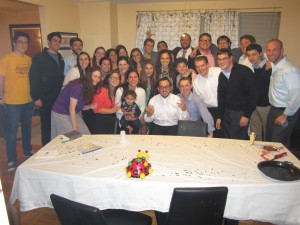 Shabbat was replete with singing, bonding, and learning more about one another's Jewish communities. Of course, davening with Lipa and singing together at the Friday night Tisch was engaging, enjoyable, and inspiring. Schmeltzer, donning a tall Shtreimel, thick round eyeglasses, black curly peot (side-locks), and a magnificently designed bekishe (long Hasidic coat) of jewel-toned hues, brought an inimitably vibrant energy to Hopkins. However, the most enlightening and moving facet of Shabbat was the open, intimate student community conversation with Lipa that took place after Shabbat lunch.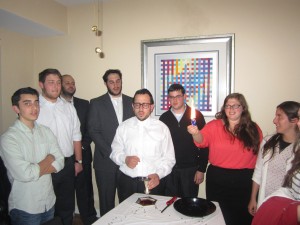 Lipa was especially interested in learning more about the students' lives as Observant Jews who spend four years at an elite secular college campus. After sharing honest, insightful reflections about his own life in response to the students' questions, Lipa asked each and every student at least one question related to their respective experience as Jewish students in college. He shared closing words of encouragement and admiration, emphasizing that the students are privileged to be enrolled at a stellar University such as Hopkins. Lastly, Schmeltzer expressed pride to see that the future leaders of the Jewish community will be educated, qualified individuals.
The culmination of Shabbat with Lipa was spent at the home of our very own OU JLIC couple, Rabbi Darren and Mrs. Avital Levin, who hosted Lipa and over 30 students for a homemade gourmet Seudah Shlishit replete with singing, Divrei Torah, and words of blessing from Lipa, followed by Maariv and Havdalah. Rabbi Levin shared that "it was both eye-opening and inspiring for our eclectic student community to spend quality time with Lipa, a famous, yet unassuming Hasidic pop star who embodies love and acceptance of all Jewish people, and a true passion for education. Lipa broke stereotypes, shifted paradigms, and entered the hearts of each of the students. This past Shabbat at Hopkins was one that will surely not be forgotten."