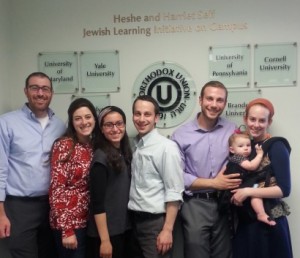 OU-JLIC launched the second OU-JLIC/YU Fellowship cohort on Sunday August 23rd with a day-long orientation at the OU headquarters. The Fellowship is accredited as a formal internship for RIETS 4th Year Internship program and aims to serve as a training ground from which future full-time OU-JLIC rabbis and educators will be drawn.
The incoming Fellows, who have stood out as highly effective Jewish leaders in their own right, will work alongside the existing OU-JLIC teams at Brandeis University, New York University, Rutgers University and Queens College this coming year. Ely and Chana Shestack will work alongside Rabbi David and Ariel Pardo at Brandeis, Scott and Sara Hoberman will be working with Rabbi Adam and Sara Frieberg at Rutgers, Chaim and Lindsey Strassman will join Rabbi Robby and Shoshana Charnoff at Queens College and Jonathan and Sharone Bloom will serve the NYU community alongside Rabbi Joe Wolfson and Corinne Shmuel. Rabbi Gideon Black, OU NextGen's Director of Professional Recruitment and Leadership Development, is spearheading the Fellowship.
"The Fellowship is a true springboard for these talented educators in their careers. The challenge and exposure they will get working on campus will certainly match and likely exceed the experiences on offer in pulpit and high school internships" Black noted. The Fellows will have on and off-site supervision ongoing throughout the year and will be submitting written summaries of their work throughout the year for review. The Fellows, who will join the rest of the OU- JLIC staff at the annual winter conference in December, left enervated about the semester ahead. Rabbi Black was deeply impressed by their passion: "We are truly blessed to have such stellar candidates forming the second cohort of Fellows. Our campus communities will be richer as a result".
In picture (From left to right, Chaim and Lindsey Strassman, Sara and Scott Hoberman, Ely and Chana Shestack)