Interview by Hani Lowenstein, Associate Director of Community Projects, OU-JLIC: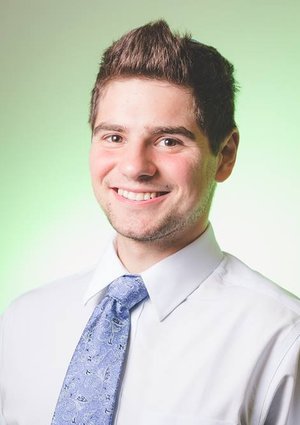 Jeremy Tibbetts grew up in the Boston area, attending South Area Solomon Schechter Day School, Gann Academy, and Newton North High School. He spent his gap year at Hebrew University and Yeshivat Ma'ale Gilboa. Even before he was registered for college courses he was a board member of UMass' Student Alliance For Israel, and soon became involved with UMass' Orthodox Jewish group KHH as well as working with his local Hillel board and Hillel International's Student Cabinet. Jeremy was also active in UMass Amherst's Student Government Association and worked on local and national interfaith initiatives through InterFaith Youth Core. Jeremy firmly believes that building up our communities is the strongest way to build up ourselves.
HL: Did you find that college was a time of religious exploration for you and how did OU-JLIC and KHH shape your religious experience in college?
JT: College was deeply formative to the Jew that I am today. I come from a non-Orthodox background and had been exploring traditional observance since I was in middle school. Even so, I came into college after my gap year unsure of what kind of Jew I wanted to be. It made it difficult for me to integrate into the Jewish community at first because I was really confused about all of it. It wasn't until my sophomore year that I really integrated into the community, and that was primarily because of the the OU-JLIC couple at the time, the Eisen's. I decided to stay on campus my sophomore year for the high holidays and that was when I first really met them. They were so welcoming and kind, it drew me in right away. Through them I found my place in KHH, the Orthodox group on campus, and once I found it I never wanted to leave. KHH and OU-JLIC helped me to not only determine what kind of Jew I wanted to be and my passion for education and leadership, but they were fundamental in helping me see how all of college was a religious experience. I had a number of non-Jewish involvements on campus when I became more integrated into the community, like interfaith volunteering, student government leadership, and Greek life. OU-JLIC and KHH helped me understand that being Jewish in college is an opportunity to do amazing kiddushei Hashem and that all parts of our lives can teach us and integrate into our Judaism. They also taught me how to balance everything, to make sure that what I'm involved in compliments who I am and where I come from instead of interfering with it. UMass is also a place where dreams come true: I can think of almost 20 people I overlapped with at UMass who now made aliyah, and throughout and after our college experience we are constantly trying to help each other with opportunities. UMass taught me that we can have the Jewish communities we dream of living in. Maybe most importantly, it was with the Eisen's that I learned how to learn, with the Leichts (the current OU-JLIC couple) that I learned how to pray, and with KHH that I learned what it means to be in community with others. Those are life lessons that shape me in my core and I can't thank them enough for that.
HL: Were you always interested in Jewish Communal work and if not what sparked your interest?
JT: No! I came into college studying Public Health as a Pre-Med student, and back then would have laughed if you told me I'd be aspiring to Jewish communal work and one day to semicha. Around my sophomore year I realized that wasn't the right path for me and I spent a whole semester wanting to change my major every week. Around this time I was very involved on campus, but more than half of my involvements and the ones I was most passionate about were being KHH's education chair and the Student Alliance For Israel's Vice president. I just loved teaching and sharing my Judaism that had suddenly started to blossom on campus. Somebody who I wasn't even so close with at the time in KHH just turned to me one day and said, "Jeremy, don't you see you want to work with Jews full-time? Why aren't you doing that?" It was wild: all the angst just immediately went away. Sometimes those things stare us in the face, but it had never occurred to me that my Judaism, the most important part of my life, could be something I bring fully into my life every day. I also am really passionate about leadership and individual growth, and the Eisen's are the ones who actually connected me to this current job. My students often tell me how happy I look doing this work, and its with a lot of pride that I get to tell them I got my dream job straight out of college. Getting into this work really is one of the best decisions I ever made.
HL: Can you describe your work with Yavneh On Campus? Did your experience at UMASS Amherst help you in your current position with Yavneh and how so?
JT: Yavneh On Campus is a new student movement that strives to foster Jewish leadership on campus and to organize an international student movement to build the Jewish future. A partnership between the OU and World Mizrachi and only in its second year, Yavneh is already on over 40 campuses and has a national student board working very hard to build this movement. Our main avenue of fulfilling this mission is through the Yavneh fellowship, where students are given resources, advising, networking opportunities, Israel experiences and more, to create change that is locally focused with global impact. As the coordinator I oversee the day to day operations. I am the first point of contact for our current 50 Yavneh fellows and last year's 60 fellows, I do campus visits to better assist our fellows and to recruit (26 last year!), and I organize our semesterly leadership Shabbatonim. Yavneh also has a number of open projects anyone can participate in, such as Heart2Heart, where students can receive funding to host Shabbat meals and bring new people to their tables, or our Tefillah retreat with Rav Dov Zinger, Israeli tefillah guru who is impacting hundreds of institutions in Israel and a growing number in America as well with his innovative method of prayer. Simultaneously, Yavneh seeks to build a platform for students to meet each other across the world, build connections, and to create programs that can involve students globally to create a shared vision of what the Judaism of the future will look like and to begin building it now. My colleagues Rabbi Jonathan Shulman (director of Yavneh) and Hart Levine (Yavneh director of student leadership initiatives) make all of this possible and are honestly the greatest mentors I could ask for in this. My time at UMass, and especially in KHH, taught me the following important lessons about my communal work: how to run a program; the importance of settings goals and finding a target audience first; that every problem has a solution; to try something new instead of giving up; that life is with people; and finally, that if you believe in someone, there is literally no limit to what they can do. I learned these all from KHH and OU-JLIC and I think I could not effectively dot his work without that time and experience that I had. My whole way of doing this job is pretty much built on these principles. For anyone looking to get involved or just to chat about the future of Judaism and Torah, feel free to shoot me an email at jeremy@yavnehoncampus.org. Looking forward to hearing from you 🙂