IMPACT IN NUMBERS
Updated numbers since campuses closed down due to COVID-19 in mid-March:
11,277

conversations between educators and students, including virtual chevrutah learning and check ins.

10,057 students and their family members took part in the 778

 chaburot and shiurim given by OU-JLIC educators.

1,769

students were delivered food by OU-JLIC educators.

1,487

divrei Torah

were sent by educators to a total distribution of over

51,400

 people. 

4,364

 halachic questions were answered by OU-JLIC educators, and

1,401

 of these questions were related to COVID-19.
THIS WEEKS HIGHLIGHTS
Here is how OU-JLIC has continued to engage, support, inspire and educate its students and their families this past week:
A PINCH OF LOVE – At the University of Maryland, the OU-JLIC educators' home-made hummus is an all-time favorite of their students, who often ask for the recipe or would come by on Friday to make it together.  On Friday, the educators two elementary-aged daughters 'ran the show' and taught students how to make hummus, over zoom. Students loved the program and loved feeling like they were a part of the educator's kitchen and family.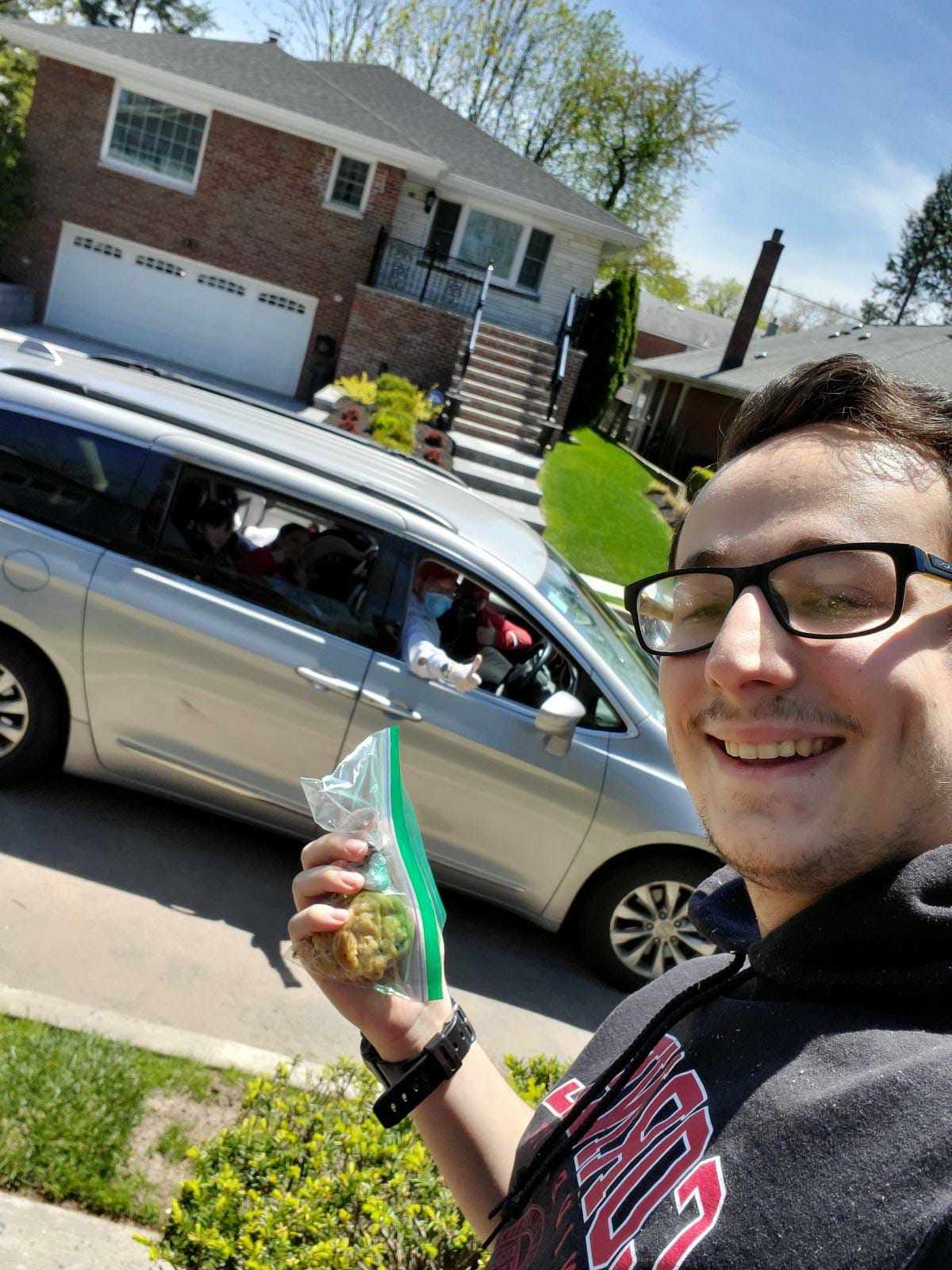 #OUJLICSTUDYBREAK – The OU-JLIC educators at Rutgers University spent two days making over 100 drive-by #oujlicstudybreak deliveries. They visited Fort Lee, Englewood, Cresskill, Teaneck, Bergenfield, Paramus, Fairlawn, Passaic, West Orange, Highland Park, Edison, East Brunswick, New Brunswick , Old Bridge, Deal, and Long branch. This was also a sweet way for the educators to say goodbye to their students because they will be returning to Israel this summer.
ZOOM SHIVA – OU-JLIC at Yale University organized a daily "shiva davening" on Zoom for a student who lost her father. On the first night of shiva the student was given the opportunity to share a hesped for her father.
COVID-19 MENTAL HEALTH NIGHT – OU-JLIC at Brooklyn College organized an incredible Mental Health Panel for their students, focusing on mental health during Covid-19, how it affects us, how to stay healthy, and when to seek help. 160 people registered on Zoom and Facebook live had 200 views. The panel included several alumni of OU-JLIC at Brooklyn College as well as the Executive Director of Nefesh International, Miriam Turk, a Psychiatrist, Dr Ronen Hisame, and of course the OU-JLIC Rabbi, Rabbi Reuven Boshnack, LMHC. The student committee curated questions and prepared a booklet of resources.
MAKING IT COUNT – The OU-JLIC educators at Santa Monica College (SMC) taught a shiur on "Sefirat Haomer and Self Improvement". The shiur discussed how to make these days count and students had an opportunity to share how they are working on themselves bein adam lemakom and bein adam lechavero, and get feedback and ideas to each other.
STUDENT VOLUNTEERS – Many students enrolled in IDC-Herzliya are on scholarships that require volunteer hours. With many student volunteer opportunities closed down because of COVID-19, IDC reached out to OU-JLIC for help finding volunteer opportunities. Just this week, the OU-JLIC educators at IDC set up 25 more students with opportunities through YACHAD, helping local elderly people with groceries, connecting students with families to read to kids while parents work and of course through OU-JLIC's, "Killing Covid with Kindness".
WEEKLY DVAR – A student learning with the OU-JLIC educator at Columbia University and Barnard College, said "it's a highlight of my week." Since this past fall, they learn Parsha together, and the student writes up a dvar Torah to send to her friends and family. For many of those on her list, this is the only dvar torah they will be reading that week. Some print it out and discuss it at their Shabbat table and others respond with comments or a note of appreciation.