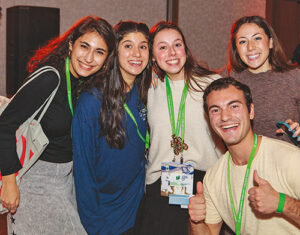 Yavneh, the OU-JLIC national student leadership network, sent a delegation of over 250 college students representing 51 campuses to this year's largest and most prominent pro-Israel gathering, Jewish National Fund-USA's national conference, held earlier this month in Boston. The conference provided the Yavneh delegation with an amazing opportunity to connect with student and professional leaders from across the country, discuss Zionism and Jewish community building, and learn more about the incredible work that JNF-USA is doing in America and Israel.
OU-JLIC's National Development Director Pinny Rosenthal said that "meeting with young, energetic students who are unabashedly pro-Israel made a profound impact."
College students from around the country were afforded the opportunity to discuss Zionism on campus, ideas for campus leadership, and hear from a number of Zionist and Jewish educators and leaders from around the world.
"I had an amazing time at JNF-USA's conference in Boston," said Atara Kresch, Yavneh Fellow at University of Michigan and Yavneh national board co-president. "It was inspiring to be surrounded by thousands of Jewish leaders from across the country. It's a very special honor to be a part of the JNF-USA family. The Yavneh delegation is already looking forward to JNF-USA's 2023 conference in Denver!"
By JLNJ Staff | November 17, 2022
Original link can be found here